On August 20th CM Punk took his first steps into a professional wrestling ring for seven years as he arrived in AEW to a thunderous ovation in his hometown of Chicago.
Punk, who was genuinely moved by the response from the capacity crowd fitted in hugs and a quick crowd-surf before he even made it to the ring. By the time he had a microphone in his hand the former WWE Champion quickly paid tribute to the fans who had continued to support him while he had been away.
At the end of his speech, Punk again thanked the fans saying that there was a free ice cream bar waiting for each of them as a show of appreciation.
As with everything in wrestling, some were unsure as to whether this was a genuine gesture from Punk or a publicity stunt. However, Chicago's own Pretty Cool Ice Cream who supplied the bars have confirmed that Punk did in fact pay for all 16,000. The company revealed that he first approached the company two years ago with the idea.
"Since we have been getting a lot of questions, yes the ice cream was on him – it wasn't a publicity stunt dreamed up by promoters. He came to us on his own and asked us to help him do this 2 years ago, and finally the moment was right. Our small team worked tirelessly to hand make every bar, and CM Punk wrote the check for the entire bill himself."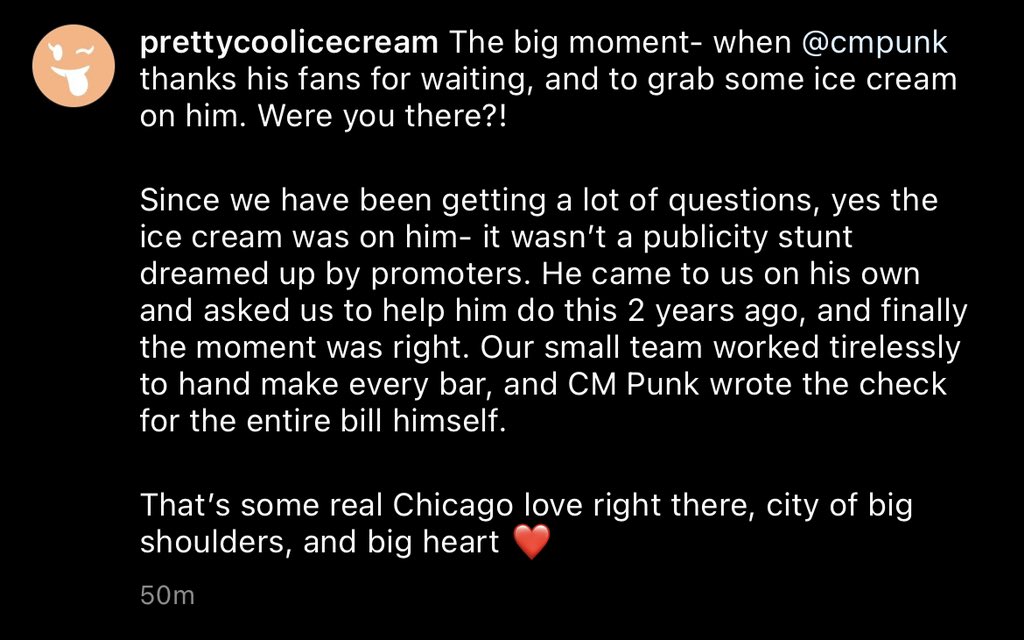 Away from ice cream related treats, Punk also had some serious business to attend to on his return. The multiple-time World Champion praised the AEW roster, before singling out Darby Allin. Punk praised the face-painted daredevil's toughness before challenging him to a match at AEW All Out on September 5th.
Speaking on a media call after the show, AEW President Tony Khan confirmed that Punk will be in AEW long-term. Without getting into details, Khan said that Punk's deal wasn't a "part-time, short-term thing."
CM Punk will make his AEW Dynamite debut on August 25th.