During the final game of the 2020/21 Premier League season Arsenal players walked out to John Cena's iconic WWE theme music during a 2-0 league victory over Graham Potter's impressive Brighton side.
WWE have had a prominence in mainstream media and sports for several decades now with the sports entertainment producers keen to expand wrestling's global reach via penetrating mainstream media to appeal to a range of new viewers who may otherwise have heard of wrestling or the WWE.
Recently this took the form of the WWE utilising Zombies during the WWE WrestleMania Backlash match between Damien Priest and The Miz in an attempt to both promote WWE legend Batista's upcoming film 'Army of the Dead' but also to help expand their growing relationship with the worlds largest digital streaming platform, Netflix.
Arsenal Football Club have utilised several WWE theme songs over their disappointing 2020/21 campaign including iconic songs such as Triple H's 'The Game' and Kurt Angle's 'You Suck'. On the final game of the 2020/21 season, an impressive 2-0 victory over Graham Potter's unfortunate Brighton side, Arsenal channelled one of WWE's biggest global Superstars, 'The Doctor of Thuganomics' John Cena.
The Tweet below, first posted by the Twitter account behind Football Daily, one of the top providers of modern football analysis on YouTube, shows the players entering the Emirate's Stadium to the familiar tune of John Cena.
Arsenal coming out at the Emirates to John Cena's Iconic WWE music! 💪@WWE | @JohnCena | @WWEUKpic.twitter.com/MMPEGYr7Rx

— Football Daily (@footballdaily) May 23, 2021
Arsenal fans will be disappointed with the final day as, despite their victory over Brighton, a last minute goal from Golf enthusiast Gareth Bale saw Arsenal's smaller neighbours Tottenham Hotspurs pip the club to 7th place by a single point following a 3-2 victory over Leicester City.
Arsenal fans may take some pleasure in knowing that despite finishing below their traditionally less successful neighbours once again, that May 23rd, 2021 marks Tottenham's 4829 day since last winning a trophy, a time period in which has seen Leicester City promoted to the Premier League, win the Premier League and a FA Cup trophy.
Many Arsenal fans are critical of Arsenal owner Stan Kroenke both for dwindling performances and for his involvement in the widely panned European Super League.
WWE CEO Vince McMahon once discussed Stan Kroenke following poor planning on the Arsenal owners part that saw WWE forced to move their Monday Night RAW live event last minute due to a double booking of the Pepsi Centre in 2009.
Vince McMahon would describe Kroenke stating:
"It's my view that Stan Kroenke should be arrested for impersonating a good businessman. Because he is not a good businessman."
Arsenal have finished the 2020/21 season in 8th place following disappointing performances from an array of players including Pierre-Emerick Aubameyang who only managed 10 goals in 29 appearances in the league down 12 from the 2019/20 season.
'The Gunners' actually managed to out perform their xGA across the whole season, only conceding 39 goals against an expected 43 [according to data gathered by Understat] however overall the 8th place finish is undeniable accurate of Arsenal's performance levels with the table below [also from Understat] showing that utilising the somewhat questionable metric of xPTS Arsenal should have finished exactly where they did in 8th place.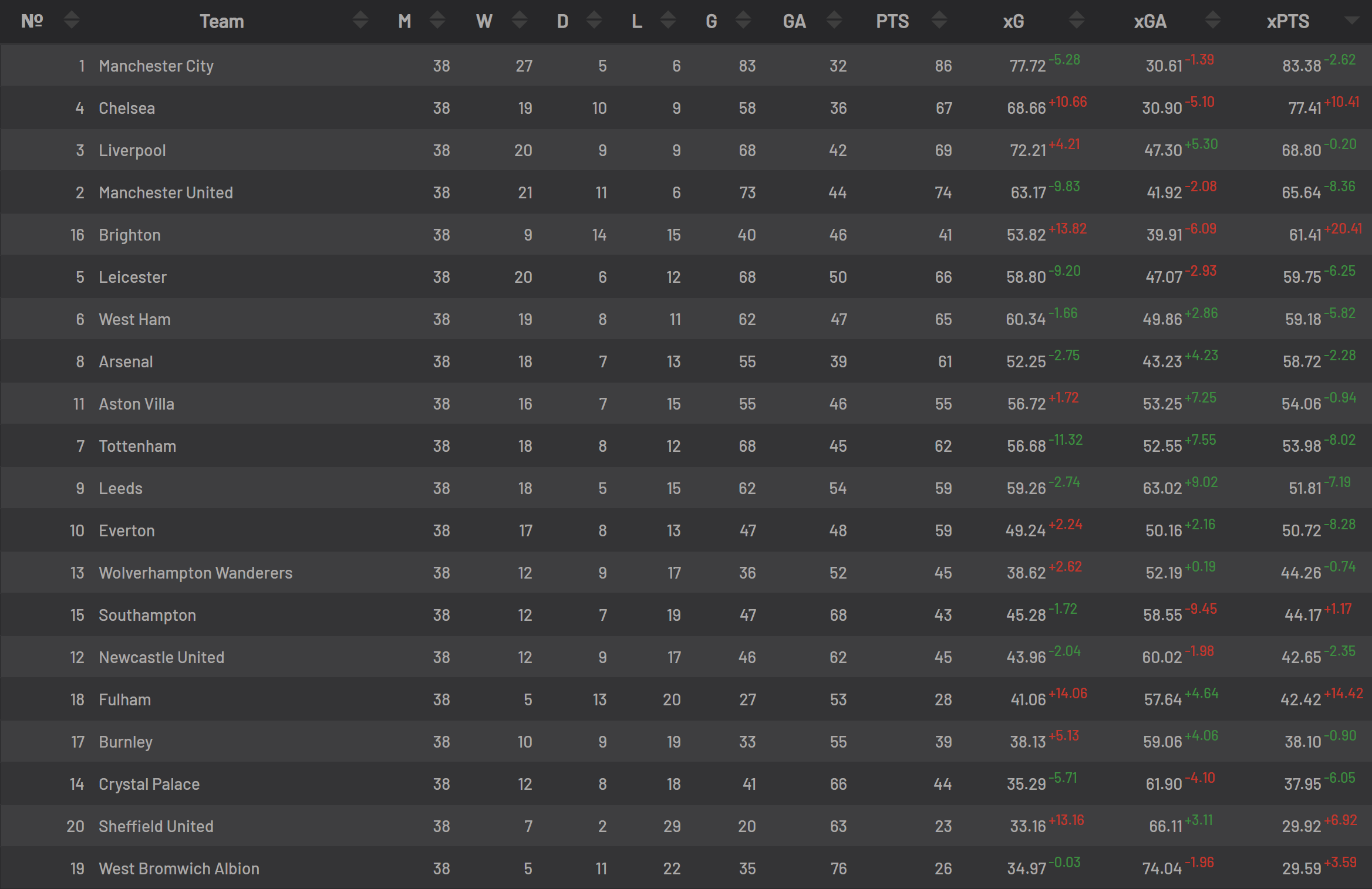 John Cena is reportedly being approached by the WWE for an appearance on their first show following the return of a live audience, with Dave Meltzer of the Wrestling Observer reporting:
"Regarding talk of John Cena being on the first WWE show back with fans on 7/16, I was told that this is still being discussed."
You can check out the fantastic content produced by Football Daily over on their YouTube channel or by following their twitter account which you can find here.