Animals have a storied history in the world of professional wrestling from Jake 'The Snake' Roberts iconic partner in crime Damien to Al Snow's beloved chihuahua Pepper, animals have always found their way into the wrestling industry. This list contains five of the cutest wrestling pets in the world today, from Instagram famous cats to the Senator of Naboo and everything in between!
There are far too many honourable mentions to list them all and there are thousands of adorable pets in wrestling including the likes of William Regal's incredible reptile Tommy and former NXT Superdog Prince Presley, but this list includes five of our favourite cute pets from the world of wrestling…and no, The Gobbledy Gooker is not on this list.
5- Pharaoh & Cody Rhodes

Pharaoh the Siberian Husky is arguably one of wrestling's most famous pets in recent years, from interviews with Alicia Atout to having his own line of AEW merchandise, Pharaoh has been a phenom since the launch of AEW. Cody, who recently departed AEW, revealed that the name was inspired by a media trip he took to Egypt following the 2014 destabilisation of the Egyptian government with Rhodes revealing he fell in love with the country and garnered a strong fan base there despite only appearing in ring a select few times.
"I went over to Egypt right after the government destabilization. It was for media and nobody else wanted to do it. Ended up making friends and generating an oddly large fanbase for a place I only wrestled a few times. Pharaoh also just looked like a Pharaoh."
Pharaoh is one of two dogs currently owned by The Rhodes family with Yeti Pinkerton [who is deserving off a spot on this list alongside Pharaoh] joining the family in December 2020 [only after approval from Pharaoh himself of course].
Be it for his incredible eyes, flawless coat or his sheer royal presence in wrestling, Pharaoh is beloved by wrestling fans the world over and is well and truly one of wrestling's cutest pets.
4- 2Pawz & Natalya/Tyson Kidd
Pharaoh may be wrestling royalty, but this next wrestling pet is a social media and reality TV superstar with more followers than many former Love Island contestants could ever dream of having [it's a good thing cats cannot do teeth whitening or tummy tea brand deals].
2Pawz is the beloved bet of record-breaking former WWE Women's Champion Natalya and her husband the former WWE Tag Team Champion Tyson Kidd, this famous feline has amassed an incredible 153,000 Instagram followers following multiple appearances on the hit E! reality show Total Divas.
2Pawz – whose name is inspired by New York Rap icon Tupac – is an adorable Lynx Point Himalayan cat, the daughter to the equally adorable Truffles [who sadly passed away earlier this year] and sister to Makaveli – who is also named after the alias of Tupac – 2Pawz truly comes from a family of adorable kittens and Natalya is not shy of sharing photographs of 2Pawz up to all kinds of mischief.
3- Pawdme & Johnny Gargano/Candice LeRae
The Gargano's may have only welcomed baby Quinn into the world this month however they have been getting practise over the past two years since they welcomed puppy Pawdme, or Pawdme' Amandalorian Amidala Wrestling Gargano to use her full government name, into their family back in Easter of 2020.
Named after Star Wars' iconic Senator of Naboo Padmé Amidala, Pawdme is an unrivalled bundle of energy and has become a reoccurring star as part of Johnny Gargano's Twitch and YouTube videos, which most recently saw The Heart and Soul of NXT attempt to bake Pawdme a cake for her 2nd birthday!
Given she is named after one of Star Wars' most iconic characters, it should be no surprise that Pawdme is a little bit of a doggy nerd herself as Gargano would reveal on Instagram in 2021 sharing an adorable video of a then one-year-old Pawdme reacting to The Last of Us 2.
2 – Kevin Owens & Hopper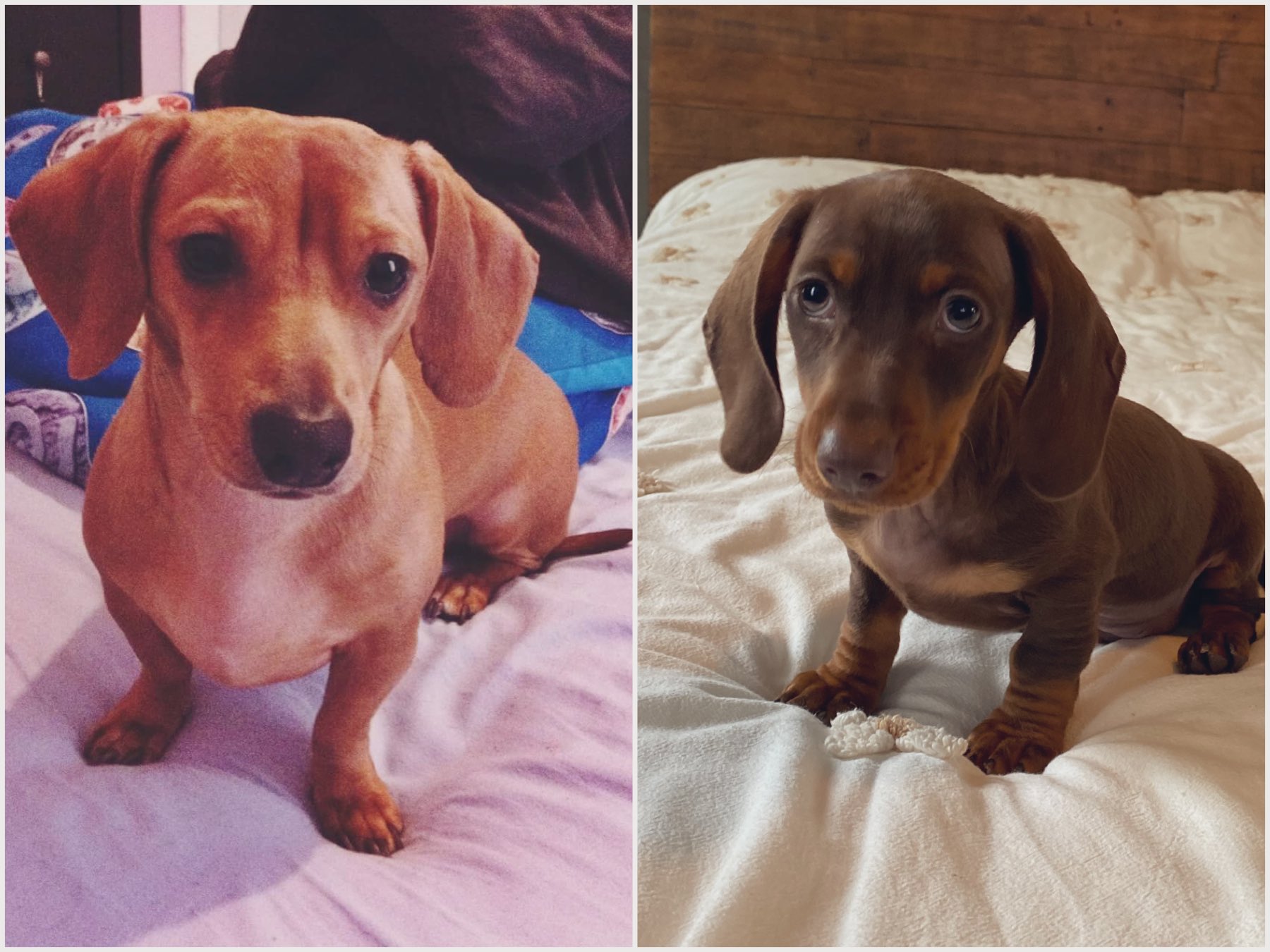 Kevin Owens famously had beef with Jon Moxley and Renee Paquette's iconic bulldog spiralling from a hilarious backstage interview segment during RAW in which the former Universal Champion would reveal he was going to leave "mean comments" about Blue on Instagram.
"Then I am going to go on Instagram and write a mean comment about your stupid dog!"
It turns out, however, that 'The Prize Fighter' is much more of an animal lover than he would let on and in 2020 Kevin Owens would announce the latest edition to the Owen's family an adorable Dachshund called Hopper.
Speaking on social media, Owens would describe Hopper as fitting his family perfectly:
"We got a new puppy, Hopper. He's exhausting and funny and crazy and adorable and annoying and sweet. He reminds us all of our first dog, Rambo (pictured left), who passed away in 2018. Fits the family perfectly!"
From his incredible adorable expression of trouble or his tiny puppy feet, Hopper is without a doubt one of the cutest wrestling pets around and the perfect addition to KO's family of pets alongside his beloved cats!
1 – Lula & Sean 'X-Pac' Waltman
Many wrestlers can say they have attended the WWE Hall of Fame, many wrestlers can say they aspire to do so but Sean Waltman's Emotional Support Animal Lula the dog is one of a select few animals who can say they have made it to the prestigious event.
The story of how X-Pac and Lula came to be is one that would melt even the coldest of hearts, abused by previous owners and used to farm puppies for profit, Waltman would find Lula wandering the streets alone with a broken jaw and in unthinkable condition.
Without hesitation Waltman took the stranded animal in and with help from an expert has given the dog and incredible life that it deserves complete with Hall of Fame and NXT: TakeOver appearances and most importantly a loving home.
Waltman would speak on The Tomorrow Show, recalling how he and Lula came to be together back in 2017:
"Last Thursday, we were coming back from Home Depot and poor little Lula wandered out into Balboa Avenue and almost got hit. She was just wandering around delirious – you know, her jaw's broken. She'll never be able to close her mouth again. His tongue was completely caked with stuff. You could tell she hadn't had any water in I don't know long. She was really scared. I haven't cried that hard in a long time. She's happy now, and that's all that counts."
Waltman has credited Lula, who is now an officially registered ESA (emotional support animal), with helping him recover from his previous demons and has gone as far as to call her "the best thing" for him.
Lula may have a broken jaw, one eye and no teeth but that hasn't stopped this icon from capturing the hearts of millions of fans around the world – including that of this writer.